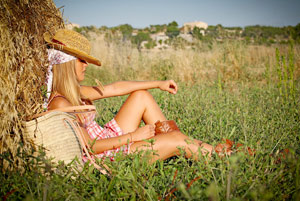 Long vacations can be great, but if you lead an active lifestyle, a week's worth of lounging at some exotic location may not be your idea of the perfect getaway. A better idea might be to plan a bunch of day trips or weekend getaways that let you explore the great outdoors closer to home.
No matter how long you've lived somewhere, there's a pretty good chance you could get in your car, drive for an hour or two and end up somewhere you've never been before. It's also likely that you'll find plenty of outdoor activities to enjoy.
While it would be fun to just get in the car and go, if you want to go exploring, it would be good to decide on a general area first. That way you'll know if you need to grab your hiking shoes or load up the kayaks…or maybe both.
Take a hike
You can almost always find a large park or two within a short drive, so pick one you've never been to before and plan a day hike. Be sure to check the weather for the area before you go, and pack plenty of food and water. You might even find a place to kayak or rent a canoe. This is a great way to get in a serious workout while taking in some new sites.
Eat, shop and ride
Another idea is to drive to a quaint town with lots of shops and restaurants. Many small towns have unique establishments that you won't find anywhere else, so you could sample the local cuisine and maybe buy yourself a small souvenir. You could even take your bikes and ride around to see what the town has to offer. If you don't have bikes, before you pick your destination, look for a place that has a rental place nearby. What could be better than fitness, food and shopping?
Run for fun
If running is your favorite fitness activity, look for a 5k or 10k run in a town you've never been to before. You can check out the sites before or after the run, or even get there a day ahead if you want to make a weekend out of it. While you're at it, why not look for a run that's benefitting a charity or cause you want to support. You'll see some new sites, get a great workout, meet a bunch of new people and support an important cause all in one weekend!
You like to stay fit and you love being outdoors, so this summer, take a quick look at the map and head out to explore what's practically in your backyard.
For more articles go to http://lifesportfitness.lifestyleezine.com