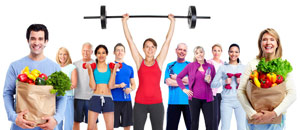 We hear it all the time. Everyone should eat more fruits and vegetables. In fact, the Center for Disease Control suggests that eating a sufficient amount of fruits and vegetables could lower the risk of certain diseases. So why is it that we often reach for a sugary snack or other high-calorie foods when we're in a hurry and hunger strikes?
More often than not, it comes down to convenience. You try to eat healthy, but when you're crunched for time it just seems easier to grab a granola bar (which are often high in fat and sugar) or rip open a bag of chips.
Busy shouldn't mean unhealthy
It doesn't help that today's food manufacturers are well-aware of our busy lifestyles. They cash in on our need for eating on the go by selling bite-sized snack foods in individual-serving sized packages. While this sounds great, it makes us far more likely to keep a few packs of high-sodium cheese crackers or miniature sandwich cookies in our gym bags, instead of a banana or an apple.
While there are some companies that offer pre-cut fruits or veggies, they are often much more expensive than buying the whole fruit and may even contain preservatives to keep them fresher longer.
Fortunately, with a little preparation, eating more fruits and vegetables isn't that difficult, and it can even be less costly than some of those pre-packaged snacks.
A better plan
The key is to plan ahead. Yes, you will need to spend a little time in the kitchen, but it is well worth the effort and will quickly become part of your regular routine.
Start by heading to the produce section of your favorite grocery store or a nearby farmers' market. Take a look around to see what types of fruits and vegetables they offer, and be sure to look for any special sales they may be having. Buying featured sale items or produce that's in season is a great way to keep your costs down and will also help you add variety to your diet, as the sale items are likely to change each week.
Another way to keep costs down is to only buy as much as you think you will eat within a few days to a week. Because fresh produce doesn't contain any preservatives, it doesn't have as long of a shelf life as most pre-packaged snacks.
Take stock to avoid waste
Once you get your items home, take a quick inventory of your purchase and make a plan for how/when you'll be eating each item. If you just throw everything in the fridge, it's almost a guarantee that you'll be throwing it all in the garbage next week. But don't worry, putting a plan together is simple.
For breakfast, fresh blueberries can be used for your morning cereal without much prep work at all. Just wash and store them in the fridge and grab a handful each morning.
For lunch, instead of having those single-serve bags of chips with your sandwich, cut green peppers into wedges or slice carrots into sticks and pack them in sandwich bags. They'll stay fresh in the fridge for the work week, so you can just grab a bag or two when you pack your lunch.
For dinner or an evening snack, slice a pineapple into cubes and store it in a container in the fridge. They'll go great with your favorite rice dish, or put some on a skewer if you'll be firing up the grill. They also make a great evening snack when you feel like something sweet but want to keep it healthy.
For more articles go to http://lifesportfitness.lifestyleezine.com