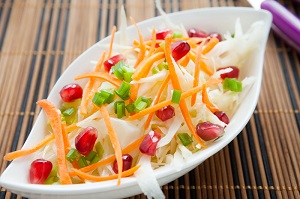 You may have started to hear a new trend out there called Meatless Monday. There may be some validation to this new initiative. In 2003 Meatless Monday was restarted as a public health awareness program, and by 2009 has been gaining popularity with celebrities campaigning and supporting it. Meatless Monday is part of the Healthy Monday initiative. Healthy Monday encourages people to make healthier decisions at the start of every week.
It was started to be beneficial for the health of the planet, as well as the health of humans. It is about healthy, sustainable eating. It's about reducing greenhouse gas emissions. It's about doing what we can to slow down global warming and build a better future and planet. But on the other side of the coin, technology has become so much better in making food production greener. The beef industry's carbon footprint has dropped 16% from 1977 to 2007. Its may not be that bad on the environment after all.
Eating too much meat is not good for our health. Reducing meat consumption (especially red, grilled and processed meats) can drastically reduce incidences of various cancers such as colon and prostate cancer. But, meat does have its many benefits as well. Meat contains very high amounts of protein, good for replenishing the body, upping the immune system, and building bones and lean muscle mass. It also contains essential vitamins and minerals, such as Vitamin A and Iron. Meatless Monday is maybe a day to help you think about healthier eating.
There are many arguments that state going meatless is good for the environment and good for your health. But there are many arguments that state the opposite that eating meat is sustainable and offers many things that are good for your health. Be careful what you read, there are always two sides to the story. Make the decision for yourself, but do the research. On the bright side, eating more vegetables is never a bad thing.
For more articles go to http://lifesportfitness.lifestyleezine.com