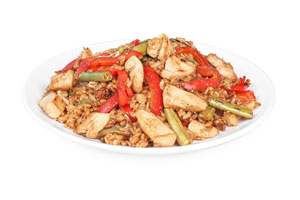 We are constantly bombarded with information on health and eating clean. Nearly every article and book you read nowadays talks about healthy eating and healthy living. With the increase in obesity cases due to unhealthy lifestyles, most people are at risk of contracting chronic health diseases such as cardiovascular diseases, cancer, and various other diseases related to poor health diets.
However, this doesn't stop the majority from eating junk food.
The most common excuse people come up with for not eating healthy or exercising is because they have no time to prepare a healthy meal at home. We all live busy lives. We have jobs, children to pick up from school, laundry to wash, grass to be cut etc.
So the quickest option is to order take-out or buy processed foods (that we know is bad for our bodies) from supermarkets that don't take much time to prepare, right?
Wrong! There are other that doesn't take time a long time to prepare. For instance Quinoa; it is a seed that can be substituted for grain-based meals such as oatmeal, pasta, and rice. Quinoa contains a lot of carbs and protein.
The good thing about lean meat proteins such as boneless, skinless chicken breasts and ground turkey is that they can be purchased in bulk and can be used for used in a variety of recipes. You can also have it all cooked and store it in the freezer thereby eliminating the temptation to order Chinese. Lean ground turkey is low in fat and has high protein. You can choose to have turkey tacos prepared with cumin and onion then top it up with avocado.
Here are some examples of easy to prepare protein meals that take a short while to prepare (30 minutes max), which you can prepare yourself at home.
Chicken, peppers and brown rice
This dish is full of flavours and comes with the omission of dough, salt and fat. It takes about 20 minutes to prepare or less. The ingredients needed for this meal are chicken breasts, olive oil, garlic, brown rice, red bell pepper, yellow onions, low-sodium chicken broth, corn starch, mild curry powder, salt, and pepper.
Quinoa and yogurt parfait
This can make for a great breakfast meal, desert or snack during the day. The ingredients for this dish include quinoa, apple (Fuji or Cortland), ripe Anjou or Bartlett pear, Greek yogurt, Stevia in the raw and cinnamon.
Florentine omelet sandwich
Breakfast is the most important meal of the day; therefore you shouldn't skip it simply because you don't have time to prepare it. This meal takes about 5 minutes to cook and it also provides the energy one requires to kick-start the day. All that's needed to prepare this dish are eggs, olive oil, frozen spinach, cottage cheese, salt, pepper, and toasted whole wheat bread.
You should never make up excuses especially when it comes to your own personal health. Eating healthily increases your life expectancy. And the way to ensure this is by preparing meals at home instead.
No more excuses for fast food takeaway!
For more articles go to http://lifesportfitness.lifestyleezine.com