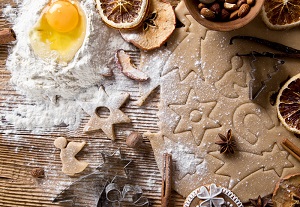 The best part of the holidays is indulging in the yummy baked goods. However, they don't all have to be unhealthy. Believe it or not, there are actually some good choices out there that won't you leave you feeling guilty for having a little too much.Granted most of them are full of refined flour and sugar, so you still must eat them in moderation, healthier choice or not. However, if you are doing the baking, making the right ingredient choices will also help in making healthier baked goods.
Here are the Top 5 healthiest baked treats you can choose from:
Biscotti is one of the best choices that you can ever make. Each slice is only 100 calories and the nuts that are added, usually almonds, walnuts or hazelnuts, add protein, monounsaturated fats, and fibre to your diet which keep you in good shape. A daily serving is about 4-6 nuts, so a slice or won't do that much damage to your diet. Stay away from the biscotti with chocolate or caramel chips, though. These are simply extra calories and extra sugar. Opt for ones stuffed with dried fruits instead.
A favourite with oranges, cranberries and apples, these make for delicious cakes and muffins. So if you're offered a slice of cranberry-orange cake, say yes. But this doesn't mean you can have cakes with white chocolate chips in them.
Although the classic fruitcake weighs in at about 80-100 calories a slice, most people may opt for a nut-free slice of carrot cake instead. They're both low in fat and have lots of fibre . It's the icing that is the unhealthiest part of the carrot cake, so use low fat icing and don't put too much on.
Choose a square or a regular-sized muffin of chocolate-chip banana bread. With a sprinkling of chopped walnuts, they're high in fibre and monounsaturated fats. Plus, semi-sweet chocolate chips are also a better option.
Cookies are generally thought of as an unhealthy sinful treat, but sometimes you just have to have them. Your best bet would be oatmeal cookies with added dried fruit and chopped nuts.
Choose the right ingredients when making your baked goods.
Bittersweet chocolate, dark chocolate and raw cocoa have less sugar, plus the high percentage of flavonoids make it an anti-oxidant. They also contain resveratrol, which is an antimicrobial that is believed to lower blood-sugar, enhance physical performance and potentially prolong life.
Use bran instead of refined white flour to make healthier cakes and muffins. You can also try options of oat flour, whole wheat flour, almond flour, hazelnut flour or coconut flour. Oat, almond and coconut flours are great options as they are also gluten-free. They're all also high in fibre which helps to keep you full and satisfied for longer periods of time.
Replace refined white sugar with other options such as coconut sugar, raw sugar, agave nectar, maple syrup, honey or fruit puree. All healthier options to limit your sugar intake.
Dried fruit, seeds and nuts are healthy baking additives. They are rich in minerals, vitamins, healthy fats and linked to promoting good digestive, bone and oral health. Dried fruit adds natural sugars and can give a little moisture and texture to your favourite recipe as well.
There is no need to deprive yourself of baked goods just to stay healthy. Just like everything, moderation is the key as well as choosing the baked goods made with the right ingredients.
For more articles go to http://lifesportfitness.lifestyleezine.com