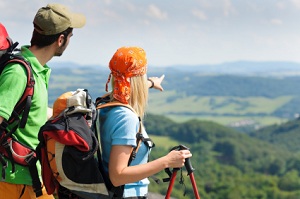 It may seem strange, even for you the reader, to say that Caribbean vacations, specialty spa resorts and skiing in Colorado are all getting old and boring. Perhaps a fitness vacation could be in order to spice up your old vacation habits. If you have thought about this already, you are among many others who feel the same. With all the pressure for us to become and remain fit, thousands are now taking their vacations to a whole new level. Destination fitness vacations are the latest rage, and here you will see why giving them a shot could be the best thing you have ever done. Here are some amazing fitness vacation destination hot spots.
Cinque Terre
Located in northern Italy, Cinque Terre has gained popularity over the last decade and is one place that must be considered if a fitness vacation is what you're after. There are 5 towns or "lands" as most refer to them that make up the Cinque Terre: Riomaggiore, Manarola, Corniglia, Vernazza and Monterosso. Each of these lands or towns has something to offer in the way of nightlife, wineries, museums and lots of historical sites. Enjoy a nice meal in any of the quaint town's waterside or embark on a scuba or diving expedition. Also there is the infamous walking trail which is 11 Kilometers long in total. Throughout the hiking path there are many challenges to be met for the fitness enthusiast.
Crystal Cruises
If you have your heart set on a cruise but still want a vacation that is active, Crystal Cruises are a great choice. On board guests can enjoy a state of the art gym, many holistic classes like Yoga and Pilates or take a jog on the boat's top track while viewing the sea and enjoying the breezes. The menu aboard this cruise line is packed with nutritious meals and snacks and the ship makes plenty of pit stops along the way so you can still enjoy shopping, a cocktail or dining when you need a break from getting fit.
SwellWomen
Hawaii is a popular tourist spot and SwellWomen combines the luxury of sunbathing in the tropics with the perfect fitness vacation destination. One of the main activities on this vacation is paddling which just happens to be one of the best ways to tighten and tone those hard to reach spots. The packages also include surfing lessons, some snorkeling and Yoga Classes. There is sure to be something for everyone. SwellWomen caters to their female clients, but also has vacation packages for co-ed, couples and single males as well.
New Life Hiking Spa
Killington, Vermont is where this fitness destination is and for a U.S. vacation it has a lot to offer those who want to stay moving and get inspired to be fit. These vacations include hiking in the Appalachian Mountains, swimming, and even wellness workshops where you can learn about nutrition. They also offer cooking classes, spinning and Yoga. With so many activities to do, and being surrounded by beautiful foliage and nature, this fitness destination is somewhere everyone should consider.
The Amansala Resort in Tulum, Mexico
Perhaps the only thing that could make a vacation to Mexico better is a fitness buff embarking on their Amansala vacation. The most popular one here is referred to as a "mini boot camp" and it isn't for the faint of heart. This vacation will not only teach you how to get your body in tip top shape, it will give you a powerful kick start. Activities include all kinds of body sculpting classes, classics like Pilates and Yoga, kayak sessions and abdominal classes. Once your workouts are done, enjoy sunbathing on the beach and eating one of their many low-fat meals specially designed to not interfere in your weight loss goals.
Wildfitness
For the animal in you, taking a one week fitness excursion in Kenya may be just what the doctor ordered. This week long fitness vacation will be like no other that you have ever had. Along with getting into shape, guests can expect to see some cool wild life, eat some local and healthy fare as well as shed pounds. Most of the fitness routines here take place in the beautiful outdoors such as runs along the amazing beaches and swimming obstacle courses. Each day will bring with it a run as well as a couple tailored exercise sessions. For down time you can also attend one of the tour guided safaris or wade in the crystal clear oceans.
There are many other options for a fitness vacation; if you want to put aside the usual lazy days and step up to something truly unique, challenging and adventurous, all while bettering your health, a fitness vacation just might be worth a try!
For more articles go to http://lifesportfitness.lifestyleezine.com