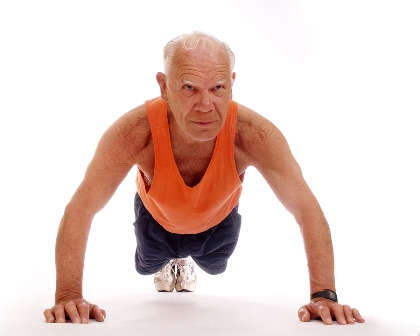 The fitness industry has been preaching exercise to an aging population for better health and
physiology. Recent research has been espousing the benefit of exercise for mental performance as well.
Researchers have long noticed that active seniors suffer less cognitive decline than sedentary ones,
and recent studies suggest that aerobic exercise may make us sharper at any age."The expression `use it or lose it' applies both to mind and body,"
— Colin Milner, CEO of The Council on Active Aging
The latest link between exercise and the brain comes from two studies in the Journal of the American Medical Association.
One study based on degrees of walking for exercise of senior men over 70 years of age, discovered that those men who walked
very little had twice the risk of dementia as those who walked more than two miles a day.
A second study showed that women 70 and older who were more physically active scored better on cognitive tests than those
who were less active. Women who walked for at least an hour and a half each week did better on the tests than those who
walked for less than 40 minutes.
Exercise Improves Brain Chemicals
We all know exercise triggers the release of endorphins, morphine-like chemicals that blunt pain and foster relaxation.
We learn from the Institute for Brain Aging and Dementia at the University of California, Irvine that active people of
all age groups are happier than couch potatoes, and less prone to depression and suicide.
That's because aerobic exercise improves blood circulation and delivers more oxygen to the body and brain.
Strangely, it also causes an array of chemical changes within the brain. It boosts the activity of mood-enhancing
neurotransmitters such as dopamine and serotonin. It increases the production of brain-derived neurotrophic factor, a
chemical that helps neurons multiply and form new connections.
Use It or Lose It
According to the ICAA (The International Council on Active Aging), the studies are a crucial link in the chain of research
on physical activity and aging. CEO Colin Milner told The Orange County Register, "The expression `use it or lose it' applies
both to mind and body," he said.
"But it's also important to remember that if you lose it, you can find it."
Milner went on to caution how to encourage seniors to exercise by choice of words.
Many seniors view strenuous exercise as
painful. Milner advises, "If we're to sell our older loved ones on the idea of exercise, we should mention how it can give
them more energy and make them feel empowered so that they can maintain their independence."
Source: The Orange County Register
For more articles go to http://lifesportfitness.lifestyleezine.com