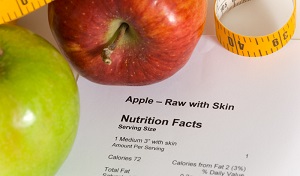 Cutting your calorie intake daily will help you lose the extra weight you may be carrying around. In order to lose weight, you need to burn more calories in a day through your activities than you consumed that day. If you've tried to accomplish this, you know it can be difficult. Dramatic changes to your diet may seem unreasonable, undoable and unfathomable. Simple every day choices, that really don't change the menu too much can seem almost effortless but can make a big enough difference. Cutting 50 calories a day can equal a ½ a pound a month. Or try 100 calories a day to lose a full pound each month. That may not seem like much, but when you add exercise to that, it can make a huge difference in weight loss.
Here are 10 simple ways to cut calories:
Invest in some good quality cooking utensils to help reduce the amount of fat needed in cooking. Try heavy non-stick frying pans and heavy baking tray.
Throw away any high fat items and replace them with healthier low calorie options.
Use cooking oil spray instead of pouring oil in the pan when frying or browning foods.
Skip the butter. Use low calorie peanut butter or jam on toast or a light mayonnaise on your sandwiches instead.
Grill, steam, bake or poach. Eliminate the frying as much as possible.
Add natural seasonings to your foods. Try herbs, spices, citrus juices, vinegar and low calories sauces like Worcester and Soy.
Make sure you have plenty of variety in your diet so that you don't become bored and give into unhealthy cravings.
Don't shop when you're hungry. If you feel hungry when you shop, you are more likely to give into temptation and buy something that is high in fat and calories to satisfy your immediate cravings.
Eat smaller portions of high-fat foods (meats, cheeses) and larger portions of vegetables, salad, fruit and very low-fat protein foods (yogurt, skim milk).
Stop drinking soda and juice. Choose water instead. Water is a great to help you feel full longer and helps curb your cravings.
Remember that slow and steady is the way to lose weight and keep it off. Using these simple calorie cutting ideas does not require you to drastically change your lifestyle. With healthy substitutions and cutting out a few things from our diet, we can make some big changes on our waist line. Talk to your dietician or personal trainer, they can get you on the right track as well and offer some other helpful suggestions. Get cutting!
For more articles go to http://lifesportfitness.lifestyleezine.com