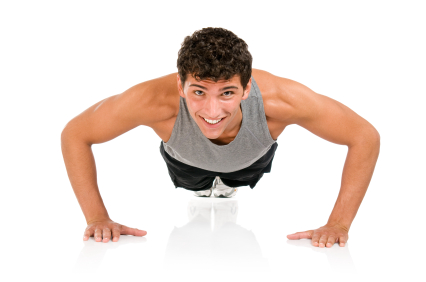 Nowadays, the average gym junkie never works out on the floor. Foam roaming is the furthest they will go to the ground. With all the fancy and sophisticated machines around, you may be wondering what the point is. However, experts in fitness field have argued that doing groundwork at the gym comes with a lot of benefits. Here are a few reasons why you should start to incorporate bodyweight exercises into your workouts.
Training on the floor reduces fall-related injuries.
This advantage is most overlooked. Every year, a large number of people die from falls. By doing groundwork, you reduce your chances of being seriously injured from a fall because you improve your ability to break the fall.
Gets the heart pumping.
Going down and getting up from the floor gets your heart pumping. You can also increase your pulse by adding a set of bird dogs. A combination of push-ups and kettle bell swings do improve the heart beat rate.
It keeps you youthful.
Research has shown that people with difficulties in lowering their bodies to the floor and rising back up are far more likely to die within the next 6 years than those who are able to do so comfortably. The ability to stand up with ease and without pain from the floor surface is a good indication of how physical fit one is. Physical strength, flexibility and coordination for all ages are good tests for physical fitness according to researchers.
Increase flexibility.
By working out using just the ground and your bodyweight, you naturally use a full range of motion. This ensures that your joints are moving freely, leading to improved postured and again reducing the risk of getting injured.
Keep thing fun and fresh
It's really easy to get stuck doing the same workout routine of bench presses, squats, sit ups, lat pulls over and over again. That's why groundwork can be extremely refreshing. Not only are there variations of exercises you can do, it gives your body a new challenge, working out different muscles that may be ignored. Moreover, it can help break the common gym plateau – and stops you from becoming bored.
Increase athleticism
Due to the use of compound movement's i.e numerous joints and muscles are engaged in each move, bodyweight exercises can give you amazing results. For instance, doing compound exercises such as lunges and push-ups have been proven to increase performance and strength. Furthermore research shows that improved core strength gained through bodyweight exercises also increases your strength throughout the entire body
So next time you go to the gym, think twice about skipping groundwork. Give it a try and you see the fantastic results that come with doing groundwork!
For more articles go to http://lifesportfitness.lifestyleezine.com