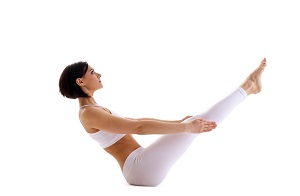 You may already have a well developed training schedule that includes weight training, cardio/aerobic exercise and resistance training, but have you thought of adding some yoga. Because of its perceived gentle nature, yoga is often overlooked as an extremely effective complement to a regular exercise routine. Adding a little bit of yoga to your training/workout routine will offer many benefits. Ultimately, it will help you strengthen and tone your muscles evenly as you work out. The poses and meditation also enhance your flexibility, balance, and contribute to a happier training routine.
The postures of yoga target all the joints of your body even though you rarely use some. The exercises also strengthen joints you regularly work out such as hips, knees and ankles. It straightens and strengthens the spinal cord as well as tightens the core. These will in turn lower chronic pain on your lower back. It also lubricates your joints, which means they will hurt less while you are working out.
Adding some Yoga to your workouts can have several benefits:
Core Strength – Yoga's slow, focused movements demand a strong midsection, which creates a perfect foundation for strength training and bodybuilding. The isometric contractions that are part of many of the yoga positions tap into a new level of resistance training that cannot be accomplished with exercise equipment alone.
Range of Motion and Flexibility – Yoga training will help improve performance and prevent injuries during workouts and athletics by gently increasing your range of motion and flexibility.
Balance – Athletic training and weight training effectively develop certain specified muscle groups while some other may get ignored causing an imbalance in the mechanics and muscular system. Yoga training can help improve your body's balance by addressing some of these underdeveloped areas.
Effective Breathing – Breathing supplies your body and muscles with essential oxygen. During athletic events and workout routines, it is easy to forget to take in full breaths and deliver the proper oxygen levels to all required areas. Yoga helps to train your body how to effectively take deep full breaths.
Downtime Exercise – Too much of something is not a good thing. It is important to take downtime when working out. Use your downtime days to stay active and by doing yoga. There are many yoga styles that are relaxed and less intense to offer the ability to exercise during off days (or even injured, with physicians approval).
Doing a few yoga moves before your workout will minimize or prevent injuries during the workout. Doing yoga after a workout will help your muscles recover and get ready for the next day. Yoga is also beneficial for your internal organs since it stimulates them and prevents various diseases. Get your trainer to help you out by adding some moves into your regular routine or in addition to your workout sessions, add some yoga on the off days. Adding yoga to your workout routine will add a whole new dimension to your total fitness that will serve you well for a lifetime. There are many styles and intensities that you can find one that is perfect for you and your fitness goals.
For more articles go to http://lifesportfitness.lifestyleezine.com