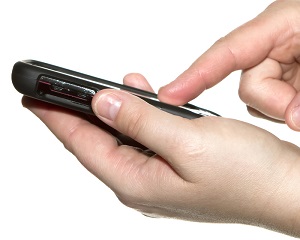 Finding time to exercise isn't just a chore; it can be downright impossible in today's hectic world. Thankfully, the technological gurus we love are on it, and when it comes to weight loss, yes, your smart phone has an app for that. In fact, it has hundreds, if not thousands. While some of them are silly and others difficult to navigate, there are many that are fabulous, easy to install and user friendly so you can get a head start on a gorgeous, toned summer body. Check out these apps that have people talking and moving!
Know Before You Download
Not all apps are created equal so before you choose one, knowing what makes a great app is essential. Steer away from gimmicky apps that promise weight loss with radical (and ludicrous ideas) such as those that promote things like putting your phone on vibrate for hours at a time and promise to break apart fat cells.
By exploring the apps you'll see that there is some solid, research based information on them, with driven and proven results. There are many smart phone apps that are backed by professional organizations with strong research behind them. These are the types of apps that you should stick with.
The best apps to use are those that align themselves with weight loss theories and promotions from agencies such as The Food and Drug Administration and Centers for Disease Control and Prevention. Essentially an app should promote such things as:
Moderate weight loss (1-3 pounds per week)
Promote exercise and healthy eating
Promote calories eaten versus calories burned
Includes a food diary component
Steer clear of any app that promotes unhealthy or radical weight loss and certainly those that sound too good to be true. The apps below are all scientifically tested and have evidence based published studies that support their legitimacy and are great places to start.
SparkPeople
SparkPeople is a free weight loss app that has been tested vigorously by a multitude of companies and one study recently published in Journal of Translational Behavioral Medicine in September of 2012 showed that it met 12 of the 13 components that should be included in a reliable app.
The site includes resources and tools for weight loss and also has plenty of downloadable apps which will help members lose weight effectively and safely. One specific app is the 'Fitness and Food Tracker' will allow you to track your food intake on the go and features a custom, built-in fitness program that you can design or have designed for you.
They also have links to other reputable apps, free resources on preparing meals and how to shop for healthy food, as well as a community forum for members to share tips, tricks and recipes. Their apps work with iPhones, Androids, Blackberry and iPad.
CSPI Chemical CuisineNike Training Club
Nike is one of the most trusted brands and their new smart phone app has people talking. This is a free app for smart phones which has been dubbed as 'a personal trainer in your pocket.' Not only does it have the usual food diary components as other apps do, it also have 30 and 45 minute workouts which include cardio sessions, toning and another key feature that includes music for you to work out to from your own playlist that you can create or take from an existing iPod.
The app is also able to be shared among your social media outlets like Facebook so those who want to be held accountable can link their goals and results for friends to see and follow. There is also another cool feature, unique to this app that allows the user to access the reward features. This works by making a game out of the workouts the user does and for every level they complete, they can then access new workouts hosted by celebrity trainers and world known athletes.
My Fitness Pal
This app has also been on the top of smart phone apps lists including Forbes top 10 weight loss apps for smart phones. Completely customized, it starts tracking your goals from the get-go including your weight, height and lifestyle habits and right away it will start recommending some weight loss tips and tricks.
Users can set goals in increments of their choice while also accessing the app's calorie counter. An added bonus is the app's calorie counter for many of the well known restaurants so users can input what they are ordering and the app will figure out the calorie and fat content of those meals.
All fitness goals and results can be shared on social networks and there are a stream of exercise videos and tutorials on the app as well. The app is free and is listed as one of the most comprehensive apps available for smart phones today.
For more articles go to http://lifesportfitness.lifestyleezine.com