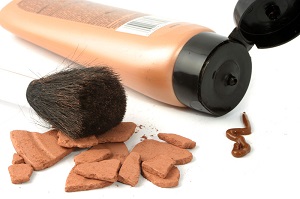 Now that summer is just around the corner, you want to have that healthy sun-kissed look without the damaging of actually being sun-kissed. We all know the consequences of over exposure to the sun, there are just too many. Self-tanners may just be the answer you are looking for.A self-tanner is any skin product that can deepen or darken a person's skin without having to expose it to ultraviolet light. The effect most self-tanning products try to go for is the kind of sun-kissed look a person might get after spending a few hours frolicking on the beach.
Self-tanners have come a long way since the "orange" skin look from years ago. Of course you want to do some research before making your purchase. Not all self-tanners are created equal, and just like each person has their own unique body chemistry, every self-tanner has its own individual formulation. Before trying on any of these products, it's best to do a spot test by applying a little bit of it to your skin so that you can make sure what it will look like and that you don't have an allergic reaction.
The best self-tanners are those that give the skin a healthy appearance. It should also give you a lasting colour along with good bronze look. It should also dry fast. You want one that is smooth to apply and moisturize the skin. These products will help get the best tanned look without using tanning beds or having to lie under the sun for hours.
The most effective and easy to apply non-dye self-tanners are the ones that contain dihydroxyactenton, or DHA. These react directly with amino acids on the epidermis to create a browning effect called the Maillard reaction, which also happens to certain kinds of food, like breads and caramelizing sugars.
Be sure to use these tips when looking for the best self-tanner for you.
Look for ingredients – make sure they are safe and have no side effects. If you have sensitive skin, check with your dermatologist first.
It should contain moisturizers – not only will they give your skin a golden hue, but will help smooth and hydrate your skin.
It should be suitable for your skin colour – look for a natural bronze glow. Don't go too dark or it will look artificial.
It should be odor free – choose odorless or pleasant smelling products otherwise, they may be difficult to use.
Try the product before buying – ask the brands for samples.
To apply the self-tanner, first make sure that your skin is clean, dry and freshly exfoliated and free of hair for even application. It is important to read the instructions on the package. Use a pair of gloves to evenly work your way over the skin you want covered until it is completely absorbed. Self-tanners will take some time to set, so be careful not to touch anything or bend until you're dry.
Take the time to test the products so you can find the right one for you – you may have to try a couple until you get the perfect match. Get that golden glow without the harmful ultraviolet rays.
For more articles go to http://lifesportfitness.lifestyleezine.com