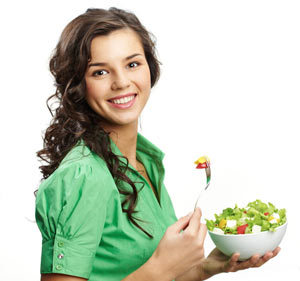 Salads are often thought of as something bland and boring you have to eat when you're on a diet. Fast food restaurants have cashed in on this mindset by offering taste-tempting salads that are anything but boring. Unfortunately, they're also anything but diet friendly, as many of these creations pack more fat and calories than some of the burger and french fry combinations.
But this doesn't mean that all salads are either boring or diet busters. With the right ingredients, a salad can make a delicious, healthy meal that hits all the right food groups.
Greens are good, but some are better
Of course, having lettuce as a base for your salad is nothing new. But other dark leafy vegetables, such as kale, chard and spinach, would be perfect for a healthy salad. They have lots of flavor and are packed with fiber, vitamins and minerals.
Fat – the bad
Where a good salad often goes wrong is when it's covered in store-bought dressing, deep-fried croutons or chicken that has been breaded, fried or saturated with a high-fat sauce. This is the type of salad you often find at fast food or chain restaurants. However, most places do have healthier options that contain mainly fresh vegetables and lean grilled or broiled meats. Just be sure to steer clear of creamy dressings made from unhealthy oils and chemicals, or skip the dressing altogether.
Fat – the good
What's surprising to most people is that not all fats are bad. We actually need high-quality fats to help our bodies absorb certain nutrients. These can be added to your salad in the form of eggs, avocados, coconut or olive oil, and other similar ingredients.
Make your own
The easiest way to make sure you're getting the most nutrition out of your salad is to make it yourself. It's also the best way to make sure your salad will be a flavorful meal that you'll really enjoy. Try experimenting with different combinations of all your favorite fresh vegetables and lean proteins. Just be sure to choose organic vegetables and grass-fed proteins to avoid adding pesticides or other toxic chemicals to your healthy meal.
Dress it up
Dressings are often used to add flavor to salads that may not be all that fresh or are lacking quality ingredients. But salads made from fresh and flavorful organic ingredients are often more delicious without added dressings. If you feel the need to add a little something to top of your salad, try mixing up your own dressing using fresh organic herbs and spices with a little olive or coconut oil, and apple cider vinegar.
For more articles go to http://lifesportfitness.lifestyleezine.com