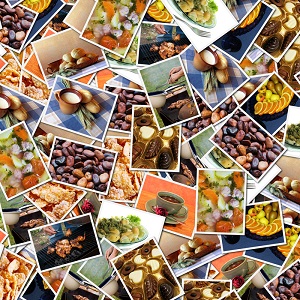 Humans having distorted views and relationships with food aren't necessarily a new phenomenon. However social media, like instagram and facebook, has created a food obsessed society. It isn't uncommon to see all your friend's and friends of friends' posting pictures of recipes across various social media sites whether they are dining out, have tried a new recipe they can't wait to share or they are simply snapping a photo of tonight's dinner.While such photos are seemingly innocent and let's face it-some people take them to unleash their inner photographe, studies, nutritionists and medical professionals are now saying that social media and posting pictures of food can not only make us hungrier, they can make us gain weight. What's worse is some feel that social media has all but altered the way we look and deal with food and this can be a dangerous path if one is not disciplined.
We See Food Differently with Social Media
In the olden days now long gone, nutritionists were just starting to accomplish their goal of getting the general public to view food not necessarily as a pleasure in which we should obsess over, but to see food as fuel; a means to stay alive and feed the body so that we can remain productive and healthy human beings.
Today though, our relationships with food have far surpassed that, so much so that the topic has made it to the nightly news. Anchors are now warning viewers that their preoccupation with food and pictures has transformed into something unhealthy. Suddenly food has become art; it is a social event where more is certainly merrier-more people and more food. This means more calories and a shift in our brain's processing of the importance of food. Not for fuel's sake, but for socialization's sake and now our waist lines are ballooning.
We also have more access to foods than ever before. Pictures say a thousand words, or so the saying goes, and the fact that we have access to all sorts of foods now prompts us to want to eat those foods. For the person who is normally health conscious, viewing photos of greasy burgers and tasty, calorie ridden desserts on a consistent basis definitively wears down willpower some researchers say.
We no longer look at food as a way to gain nutritional value; instead we see food differently: a competition to see who can bake the best dessert; an invitation to try as many new foods as we can; a centerpiece to several get- togethers with friends where the food and spirits flow without a second thought. We care more about the art of food and the social stigma behind it than concentrating on eating the foods that will replenish our bodies in a healthy manner.
The Guilt is Gone
It used to be that when we kept food journals they were a tool to gauge how much we are eating and a way to see where our eating "flaws" were taking place. Emotional eaters found this to be quite helpful as well. However, social media has afforded us all the opportunity to view food with ease and in that process much of the guilt we used to feel has dwindled. After all, what's the harm in creating a masterpiece and then splashing it across the social media sites in an effort to impress friends and exchange recipes? A lot says some researchers. Referred to in the medical community as "foodstagramming," medical professionals fear that photographing foods across social media sites has started an obesity trend that can't be undone.
In fact there is a plethora of research that shows that viewing images of foods, especially those that are high in calories, will stimulate the brain's appetite and ultimately will cause us to crave and eat such foods.
Studies continually show (using MRI imaging) that when we view high calorie foods certain parts of the brain are activated. Those same regions are not activated when viewing healthy foods such as veggies and lean meats, causing researchers to believe that our feelings and craving for high calorie goodies are increased simply by viewing photos. Such photos trigger cravings for delicious foods and we are then more apt to seek them out and eat them.
Since we often spend hours at a time on social media sites, our brains are flooded with these images, causing a chain reaction and society's weight is increasing because of it, while at the same time we are forgetting that food is meant to nourish our bodies, not feed our souls.
For more articles go to http://lifesportfitness.lifestyleezine.com