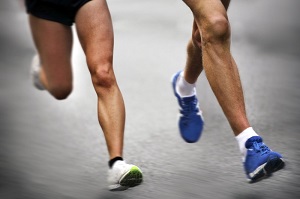 So, you're getting ready to run a marathon. What should you do to really prepare? What should you eat, how should you train? Here are some helpful suggestions to get you on track to reaching your goal.
Key points that a good marathon training program should include.
Training Level
Before you even start training you should have a fairly good idea of your marathon goal as it relates to your running ability and experience. Don't be too ambitious at the beginning if you haven't run a marathon before. Sometimes just finishing the race comfortably is a good enough goal. Pick a training level you can handle from a weekly mileage perspective. You will run a lot of miles during the weeks of training. The program you follow will need to be tailored to your own marathon goal. One size does not fit all.
Vary Your Runs
Try to vary your running pace from run to run. In fact most training programs will indicate what type of fun you should do each day. For example, easy pace, hill run and marathon pace.
Alternate Your Training Days
The problem with training for a marathon is that your body does not have enough time to recover from the increasing effort as you get further into the schedule. To counter this a good training program will follow the hard day – easy day principle as much as possible. This means you will alternate lighter training days with the harder ones. For example: Day 1 – 7 miles at tempo pace. Day 2 – 7 miles at an easy pace. Day 3 – 9 miles at your intended marathon pace. Day 4 – 7 miles at your intended marathon pace. Day 5 – rest. Day 6 – 17 mile long run. Day 7 – 5 miles at an easy pace.
Diet
A good program should also include dietary advice. Many marathoners believe that eating lots of carbohydrates is all they need for training. This actually is not true. Yes, lots of carbs will fuel your running, but you need proper amounts of protein as well to help repair muscle tissue that is broken down, especially during the longer runs. You also need adequate amounts of fat, but unsaturated as much as possible.
Mental Preparation
It takes a lot of mental fortitude to get out of the door day after day (especially in poor weather conditions) and go for your required training run. Some things to help are training with a friend or a group with similar goals, taking a couple of days off if you feel down, keeping a positive attitude, and visualizing reaching your goal.
Cross-training
It's not all about running. It's about other activities that will help you build endurance and stamina. It will help you also avoid injury.
Without a proper training schedule and without commitment, you will have difficulty reaching your goal. Keep strict to your schedule. When marathon day comes, you'll be thankful you did when you successfully cross that finish line.
For more articles go to http://lifesportfitness.lifestyleezine.com