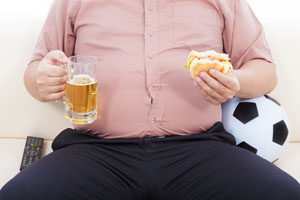 Tim Cook, the CEO at Apple, reportedly said yesterday at a conference that "a lot of doctors believe sitting is the new cancer." And people still wonder why standing desks were innovated? Here is the reason why; Tim Cook, CEO at Apple, reportedly announced at a conference that several doctors believe sitting is like the new cancer. Not only is sitting the new disease, but is also related to the increased cancer risks.
Sitting disease is on the rise and is associated with myriads of health issues regardless of whether you workout or not. Another ensuing research revealed that the inactive lifestyle can distraught an individual's mental health, breathing, and also increase risk of cancer. However, are these assumptions about sitting disease true or false?
Marc Hamilton, Ph.D. professor at the Inactivity Physiology Laboratory at Pennington Biomedical Research Center, who has decades of experience in conducting researches of the effects of inactivity on the body, claims that he has conducted over 1,000 studies on the sitting disease since the year 2004. Mr. Hamilton compares the sitting cancer to smoking habits. He says that people used to smoke without knowing its health risks.
According to Marc's research, sitting too much does not compare to very minimal exercise. He believes that every hour of the day is very significant to human physiology; therefore you can not only depend on the few hours you exercise. Marc's most recent research indicates that the most inactive people have two times probability of contracting diseases such as diabetes, compared to the most active people throughout the day. The risk is even higher than people who consume a lot of sugar.
The bottom line is, Tim Cook and the rest are simply trying to make people realize the danger they put themselves in when they spend the better part of their day just seated- be it at home or in the office, and it is high time people start dealing with this issue. Exercise is great, but for some reasons such as enhances blood flow, builds muscle, slows aging and great health in general. Light activity on the other hand is different from exercise, but it too has its benefits, which exercising cannot cater for.
Same case scenario; you can't miss working out simply because you are eating healthy, or indulge in unhealthy eating simply because you work out. The good thing is that the problem has been discovered, and the next thing after establishing the problem factor is finding a way to solve it or manage it. Just like before when people used to smoke and weren't aware of the dangers they were exposing themselves to. Now that people know what smoking can do to one's health, those who still do are fully aware of the health problems they may likely incur as a result of smoking.
With the same mind set, we now know what the sitting cancer can do to oneself. So what do you do about it in order to avoid incurring diabetes or mental issues? The answer is simple; Stay active
For more articles go to http://lifesportfitness.lifestyleezine.com