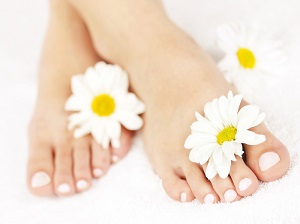 Whatever the season, it's always a nice treat to take care of you feet with a pedicure. Whether you do it yourself or visit a salon getting a pedicure will make your feet look nicer in the summer and you'll be more comfortable in your winter boots with soft smooth feet.Try an at home pedicure. Begin with a long soak. Get your feet into a tub of hot water and soak your feet for at least 10 minutes. Take the dead skin cells off with a pumice stone. When done, make sure you dry your feet well. Moisturize your feet after their soak. Try creams that contain menthol or peppermint for a soothing feeling. The moisturizer will help keep your feet smooth and soft. Trim your toenails and hydrate your cuticles. And finish it all off with some polish. Bright colours can be playful, or chose a colour that will go with your outfit. Finish it with a top coat to protect it.
Here's how to care for your feet all year long so that they will be healthy, look beautiful and feel wonderful.
Eat Fish and Nuts – The nutrients you take in your food will decide how your hair, skin and nails will turn out and nuts and seeds contain omega oils which are necessary for radiant skin, healthy hair and nails.
Exfoliate Your Feet – Scrub your feet with a foot scrub, or use exfoliating wash to get rid of dry, peeling skin and allow younger, healthier skin to surface. Exfoliate your feet daily. Pay attention to the rough patches and to your heels.
Moisturize Your Feet – Feet respond even better to a massage with a good moisturizing clean. Do moisturize your feet immediately after washing them thoroughly and drying them with a towel.
Groom Your Feet – Cut your toenails straight across to avoid ingrown toenails. When summer comes, pretty up your feet by painting the nails with your favourite nail polish.
Prevent Fungal Infections – Once a week, soak your feet in a foot bath that has a few drops of tea tree oil added to clean warm water. For added luxury, you could add a little tea tree shampoo to the water for lather and use that to clean your feet too.
Looking for a great homemade moisturizing cream. Here is a recipe for an all natural moisturizing treatment for your feet.
Mix:
1 ripe papaya
1 cup of plain yogurt
1 tablespoon of honey
1 tablespoon of coconut oil
Apply to feet then slip into old socks for at least 15 minutes
So, with some tender foot loving care, a pumice stone and some nail polish, it's easy to achieve beautiful feet.
For more articles go to http://lifesportfitness.lifestyleezine.com