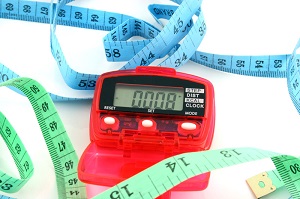 Sometimes we get into a slump and just need someone, or even something to get us going to get our exercise in. Getting into shape, losing weight, and moving more each day are all really tough to do. An activity tracker can help. Technology these days can be just that thing. Many people are now sporting a new fit tool, usually a Fitbit or pedometer tool that is strapped onto the wrist. There are also many fitness applications that you can download onto your smartphone. It can be a great way to keep you accountable to what you are doing during the day. It may just be that push you need. At the very least, it will make you more mindful of your present activity level, which is a good step to getting fit.
Fitness tracking gadgets are a newer kind of activity tracking device. They can be synced to your computer or smartphone or be part of your smartphone or computer. There are many gadgets out there; the most popular one is the Fitbit. But there is a list of many that can do just as much or more. They can be worn like a watch, or clipped on like a keychain. They will track your steps, the number of calories you've burned and the distance you have travelled. The more costly ones will also calculate the number of stairs you travelled, how you slept and how many hours you were asleep for. Additionally, through the link to your computer or smartphone, you can also track your food consumed and your weight.
Fitness tracking devices will show you what you are actually doing, not what you would like to be doing, or what you wish you were doing. That information can be powerful at encouraging you to get off the couch and hit the gym, go for a run or even head out for a walk. It is known that keeping a food log actually makes us more conscious about what we eat because we are paying attention. It allows us to stop, think, and make better choices.
Steps to Make the Most of Your Fitness Tracking Gadget or App:
Get your friends involved. Get a friend or family member on the same device and they can help motivate you.
Make your tracking gadget or App part of a bigger package. Choose tools that work together to give you the best and most information for you. Some packages will even give you expert advice based on your data.
Use your gadget or App in conjunction with your current exercise program. Don't purchase the tracking gadget or App as your exercise program – use it to help keep you motivated and doing your current sessions.
Some of the top gadgets to try:
Basis Peak
Garmin Forerunner 15
Mio Fuse
Fitbit
Garmin Vivosmart
Jawbone UP24
Runtastic Orbit
Microsoft Band
Misfit Flash
Whether your health goals are modest or you're hoping for a full fitness transformation, using a personal fitness tracking device can go a long way in helping you understand if the exercise and health habits you keep are contributing to the new you.
For more articles go to http://lifesportfitness.lifestyleezine.com