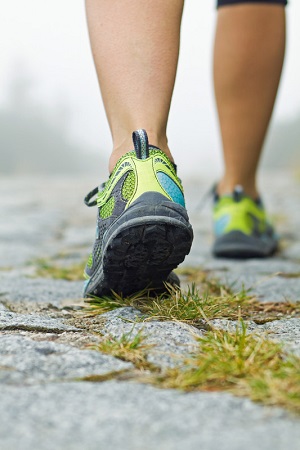 Walking is a great addition to your current workout routine. It has a plethora of benefits and is a universal exercise. You can do it anywhere, and mostly anyone can do it, it's free, it doesn't require special equipment, and you can do it any time of day. By just adding 30 minutes of walking into your daily workout routine, you can change you! The benefits are countless.
It lowers blood pressure that can also be good for your cholesterol levels, and in turn reduces the risk of obesity. Walking is not only one of the best activities for your health and mental well-being, it can help you lose weight and keep it off. It will help your heart become more efficient and every day activities will become easier. You'll sleep better, have more energy, and benefit from a little Vitamin D from getting outside.
Benefits of Walking:
It strengthens your heart. Regular walking reduces your risk of heart disease and stroke.
It lowers disease risk. It slashes your risks of type 2 diabetes, asthma and some cancers.
It keeps weight in check. It helps you lose weight and keep it off.
It can help prevent dementia.
It can help prevent osteoporosis. As a weight-bearing activity, it helps strengthen bones.
It tones. A good walk help shape and tone your legs, giving definition to calves, hamstrings and lifting your glutes.
It tones your arms. All the regular movement you experience in your arms while walking will help tone your arms, shoulders and even upper back.
It boosts your vitamin D levels. A little bit of sunshine outside each day will put you in a great mood and help your bone health and immunity.
It gives you energy. A brisk walk with help boost your circulation and increase oxygen supply to every cell in your body.
It makes you happy. Regular moderate-intensity exercise is a great antidepressant. It helps reduce stress and anxiety. It can also be done with friends while enjoying a nice chat.
Even though you are already in a regular workout routine at the gym several times a week, doesn't mean walking isn't for you. The key to overall fitness is cross training, or participating in various activities, and walking is the perfect complement to any training regimen. By adding walking to your routine, you end up training opposing muscle groups and end up balancing out your strength and reducing the chance of injury. Also, if you are used to high impact activities, your body could benefit from taking it down a notch once in awhile and walking. You'll get all the benefits of exercise without the wear and tear and giving your muscles time to recoup.
Add a walk to your daily workout routine. You'll be able to cash in on all the additional benefits it has. Speak with your trainer and see when the best time for you would be to work that walk into your schedule. Sometimes, to get you moving during the day, first thing in the morning may be best for you. Or, if you feel a little sluggish and tired by mid-day, head out for a walk on your lunch. Start walking towards a healthier you!
For more articles go to http://lifesportfitness.lifestyleezine.com