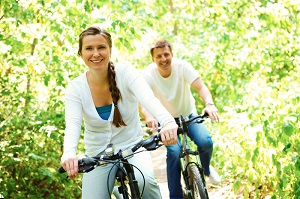 Taking a vacation doesn't have to include a vacation from your healthy lifestyle. There are many spots you can visit to keep fit during your time away. Look for destinations that have a healthy atmosphere (large open spaces, fresh clean air). Plan holidays that are going to provide some healthy activity. Hiking, walking, biking, are great exercises while away.
Resorts can offer many activities to keep you moving and having fun. Kayak or canoe rentals, tennis, basketball and volleyball courts, pools with aerobics and lap swimming schedules, hiking trails and so much more. Also, try retreats that get you away while getting you involved in other activities. Horseback riding and yoga retreats are popular. You get to relax and get away from it all while keeping fit.
Here's the top Healthy Vacation Spots in the U.S.A.:
Big Island, Hawaii. You can experience a wide variety of activities including surfing, hiking, climbing, paddle boarding, snorkeling and kayaking.
New York City, New York. New York is the city that never sleeps. You can get a lot of exercise without even realizing it. Walking is a big way of getting around.
San Diego, California. San Diego has the ideal weather conditions for getting outside and getting active. Visit beaches, eco-reserves and state parks for running, hiking.
Sante Fe, New Mexico. Santa Fe has the freshest air around. A great spot to visit with rich history you can get out and explore with more than 300 days of sun every year.
Steamboat Springs, Colorado. Located in the Rockies, Steamboat offers great skiing in the winter and a perfect spot for hiking and biking trails in the summer.
Madison, Wisconsin. Madison is known for having more bicycles than cars. There are hundreds of miles of trails, beaches and lakes perfect for swimming and canoeing.
Austin, Texas. Hometown of Lance Armstrong, Austin is a great biking destination. Running is actually an ideal activity for Austin as it has an elaborate trail system that winds around the town with several loops with varying lengths (3 to 18 miles).
Sedona, Arizona. Head to the red rocks of Sedona for some rejuvenation (spiritual journey or massages and peace). Personal enrichment is considered an attraction but it is also a great spot for mountain biking, hiking, golfing and tennis.
Seattle, Washington. Seattle is the best place to visit for healthy food options with fresh fish, farmers markets and Washington's famous apples.
Bar Harbor, Maine. Bar Harbor is the ultimate seaside town for the active traveler. Explore 125 miles of hiking trails through mountains, lakes and sea cliffs. There is an abundance of fresh fish and locally grown blueberries making eating healthy an easy choice.
We all need time away from the everyday hustle and bustle. We need time to rejuvenate and relax. It helps us stay healthy. Don't stop being active while on vacation, keep up with your healthy lifestyle.
For more articles go to http://lifesportfitness.lifestyleezine.com