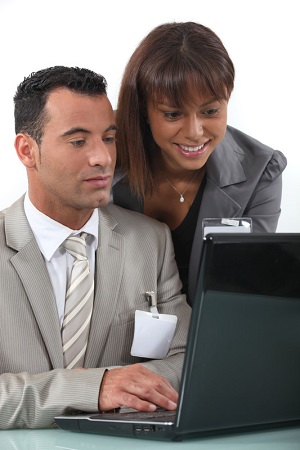 In the mid 1900s generally you met your partner at school. It was there that relationships were formed and dating turned to marriage. Nowadays, with life getting busy, sometimes the only chance you get to find or start a relationship is with someone you work with. You get to become friends and learn a lot about them just because you see them every day. You spend most of your time at your place of work and since more and more people do not have time to go date, the office can play a matchmaker role.
There are serious things that should be considered when you start an office romance, as dating a workmate has serious implications on all aspects of your life, and also affects those around you.
Pros
Great place to meet. In today's hectic work environment it can be difficult to find the time to "get out there" and find a suitable partner. At work you generally become attracted to the person over time, which is more conducive to a working relationship.
Establish a relationship prior to dating. By working alongside someone you will get to know them as a person, and find out more about who they really are than you would in other circumstances. By finding out more about the real person, and being attracted to this person, the relationship should last longer and be more secure.
Spend time with each other. Obviously if a relationship is going to last a long time, you and your partner will need to spend a lot of time with each other. If you start to date someone you work with you will get the chance to spend a lot of time with them, and the chances are you had been spending this time with them prior to dating.
Create a happy work environment. The early stages of dating are an exciting, happy time. By dating someone at work you can both lift the spirit of the office by being in an excellent mood and giving off positive vibes.
Have a helping hand during those stressful times. If you have a problem at work it may seem like everything is against you and no one is willing to help. Colleagues are often busy with their own work and unwilling or unable to assist. If you are dating a workmate they will be more likely to go that extra mile and give you a hand.
Of course, not everything about meeting your partner at work is good. Several of the positive aspects can easily slip into negative ones, and there are other issues all on their own which could block you from having a meaningful relationship with a workmate.
Cons
Subject of idle gossip. If you start a relationship with someone in your office, you can be sure that other people will gossip about it. If possible, you should try and be open about your new relationship instead of keeping it a secret.
Jealousy. Your co-workers may be jealous of the relationship you have, especially if it is an employer/employee. You or your partner may get jealous by talking to others in the office, it may come off as "flirty".
Spending too much time together. Seeing each other socially in the evenings and weekends, followed by seeing each other in a stricter environment during the day can lead to a little too much. It also may kill a little of the romance, as you miss out on the excitement of waiting to see them at the end of the day.
Allocating objective blame. If something goes wrong and work, and it's your fault or that of your partner, it can be difficult to remain as objective as you should be.
Breaking up is hard to do. If the worst happens and your relationship comes to an end, it can be disastrous in the workplace. Breaking is up is hard to do at the best of time, and having to see them at work every day can be very difficult, creating an unhappy working environment that your colleagues will be in the middle of.
Weigh out your options before you get to close. Think about the pros and cons before you jump into anything serious.
For more articles go to http://lifesportfitness.lifestyleezine.com