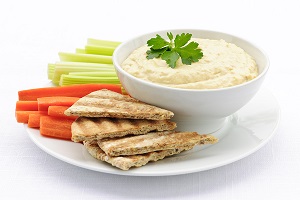 Making your own healthy snack is a great way to avoid the unhealthy snacks high in saturated fats, sugar and food preservatives or additives. Choosing a healthy snack is a great way for the body to maintain its energy levels in between meals. The key to making healthy snacks is to make them the same day, or no sooner than the night before for optimum freshness.
Fresh Fruits and Vegetables
Probably the easiest healthy snacks are fresh fruits and vegetables. Some fruits and vegetables don't even need any prep work. Just grab, wash and enjoy. Some may take a little more time and effort to wash and cut them up and place in snack size containers. Try berry mixes (blueberries, raspberries, strawberries and blackberries) or home-mixed fruit cocktails. In addition, fruits are great by themselves, and do not need any additional dressing. Or you can add some chopped up fruit to another healthy option of your favorite yogurt flavor.
Pre-cut and pre-package your vegetables. Celery sticks, carrots, cucumber, grape tomatoes and peppers make a colorful snack that can easily be taken almost anywhere. Add some protein to your celery by spreading on some natural peanut butter. It's a great way to get you through the afternoon before dinner.
Vegetables don't have the "sweet" taste like fruit and many enjoy them with a dressing. Try and make your own dressing to avoid food additives, high calories and other harmful ingredients that are found in store bought dressings. To make your own dressing, you can use ingredients such as nut milk, greek yogurt and fresh herbs and spices.
Nuts and Seeds
Nuts and seeds are great for making healthy snacks. You can combine them into a trail-mix and package them into single serving sizes for easy grab and go convenience.
Smoothies
Yogurt, some protein powder and your choice of fresh fruit is an easy and delicious way to curb your hunger until your next main meal. There are lots of delicious recipes out there for all kinds of smoothies, you can almost try a different one each day of the year.
Try this easy recipe that that can help with those sweet tooth cravings. Loaded with raisins and nuts, they'll give you energy to burn.
Peanut Butter Oat Bites
2 tablespoons unsalted butter
2/3 cup creamy natural peanut butter
1/4 cup confectioners' sugar
3 tablespoons honey
1 teaspoon vanilla extract
1 1/2 cups Rice Krispies cereal
1 cup quick oats
1/4 cup raisins
1/4 cup mini chocolate chips
1/4 cup finely chopped lightly salted dry-roasted peanuts
Preparation
Melt butter in a medium saucepan over medium heat. Remove pan from heat and stir in peanut butter, confectioners' sugar, honey and vanilla. Stir in Rice Krispies and oats and allow mixture to cool.
Stir in raisins and chocolate chips. Form mixture into 1-inch balls, then roll each ball in chopped peanuts, pressing to coat. Store in refrigerator.
For more articles go to http://lifesportfitness.lifestyleezine.com