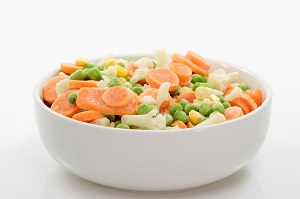 We all know how important it is to include vegetables in our daily food intake. Is there a difference between fresh and frozen vegetables? Fresh vegetables are always a great choice, but frozen veggies are a great way to add vegetables to your meal when fresh just isn't an option.Frozen vegetables can be a great way to add veggies to your meal, especially if you don't have fresh vegetables on hand. A main advantage of using frozen items is the fact that you don't have to worry about the foods spoiling in the fridge. Frozen ingredients will keep longer than fresh refrigerated foods, and the freezing process does not deplete the nutrition very much.
Also, fresh vegetables may not actually be as fresh as we think. By the time you bring some of these fresh vegetables home they have already lost a good deal of the vitamins that they once had. In order to reach your grocery store, many fresh vegetables have in fact spent a considerable amount of time in transit as well as time on the supermarket shelf. In reality true fresh vegetables would be those that you plant in your own garden or buy direct from the farmer. If you prepare these on the same day that you buy them then you would receive the maximum nutritional value.
Frozen vegetables are easy to keep on hand and inexpensive to purchase. A bag of frozen veggies can be stored in your freezer for long periods of time and can be a quick ingredient to add to any meal with ease. Frozen vegetables are more easily and cheaply available all year round unlike their fresh counterparts. Fresh produce may be limited and/or more expensive. Some vegetables are difficult to get in some areas or on a seasonal basis. Frozen vegetables can make these difficult-to-find fresh vegetables available when they otherwise may not be. This also gives more variety to your diet making eating healthier a tastier task. Frozen vegetables will remain consistent in both quality and price. This is great if you live in a place that is difficult to get around in the winter with icy road and or long distance driving.
Buying frozen will not only save you some money, but time as well. A bag of frozen carrots will only involve cooking them by steaming, microwaving or boiling them for a short period of time. It becomes fast and easy to add vegetables to your meal and may encourage you to add more vegetables to your meals rather than skipping them all together for convenience. Fresh carrots require you to peel, clean, cut/dice and then cook. Cooking time will also be a bit longer for fresh vegetables.
To keep the most amount of nutrition in the frozen vegetable, they must be prepared carefully. Over boiling is one of the most common mistakes that can actually occur with fresh or frozen. Also, ensure when you are purchasing frozen vegetables that the listed ingredients are only the vegetable itself.
Stock up on vegetables, buying frozen will last longer and will be one less thing you have to buy on a regular basis. The ease and convenience of frozen vegetables will make eating healthier more enticing. There tends to be an attitude that the fresh vegetables in the store aisle are better, but frozen vegetables are healthy, can provide more variety and are convenient for those with busy schedules. Don't skip out on your daily veggie intake when they can be so easy to add to your meals.
For more articles go to http://lifesportfitness.lifestyleezine.com