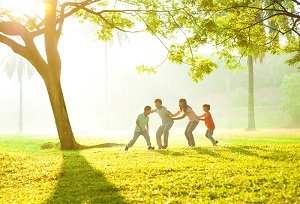 When it starts to warm up and the days get longer we all want to spend more time outside. Why not spend the day with the family enjoying the great outdoors? After a busy week of work, it is nice to get the family together and head outside to have some fun. Children need to move and be active every day. It is an important part of their development and helps maintain healthy habits later on. Moving around and getting fresh air is good for them and good for us.
The outdoors provides lots of possibilities for active fun. Try some of these outdoor activities:
Boating: If you do have a family member with access to a boat, spending some outdoor time on the water can be a great activity for the family. Enjoy a leisurely ride around the lake or river or have a little bit more excitement while waterskiing or tubing behind the boat. Or head out for a nice paddle in a canoe or kayak. You'll be sure to get some good exercise while out having some fun. Always be safe, have your boater's licence, lifejackets for everyone onboard, and don't drink and boat.
Hiking: Going for a hike is a great outdoor activity for the whole family. Spend some time at your local Conservation Area, Provincial Park, State Park, Municipal Park, Botanical Gardens, or National Park on the great trails that they have to offer. You can find a hiking trail for every capability from an easy stroll to a more difficult climb. Make sure you have all the right hiking gear like good supportive shoes, bug spray, and a walking stick if needed.
Swimming: A day spent swimming at the lake or outdoor pool is a great option for family members of all ages. Children love splashing around in the water and these days water playgrounds can be found almost anywhere and they are inexpensive or even free.
Fishing: Get the kids and the fishing gear together and head out to catch the big one. Fishing is a sport that everyone can enjoy. Fishing offers great opportunities for reconnecting with the whole family. Sitting on the creek bank, or in the boat, waiting for the fish to bite, is the perfect time to have some family conversation.
Even just spending a couple of hours outside right at home can be fun. Start a game of catch or a pickup game of football, set up an obstacle course or go on a bike ride around the neighbourhood stopping at a nearby playground. The ideas are limitless.
Plan something with your family outdoors this coming weekend. It's a great way to get some exercise, fresh air and spending quality time with the ones you love.
For more articles go to http://lifesportfitness.lifestyleezine.com