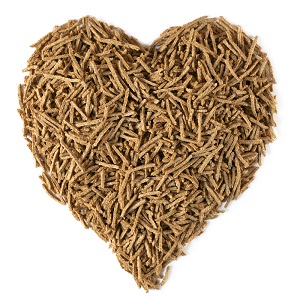 One of the simplest ways to kick start a healthy diet is to increase your dietary fiber. Processed food and fast food are easy and quick but they can wreak havoc on your digestive tract. Not only that but processed foods, which are high in fat and high and calories are linked to obesity and other diseases.
What does fiber do for us? Fiber's primary role is to promote healthy digestion. Fiber cleanses the digestive tract by speeding up the excretions and toxins from the body. It also helps to prevent waste from sitting in the intestines.
There are two types of fiber, insoluble and soluble. Insoluble fiber passes through most of the bowel system unchanged and promotes the growth of friendly bacteria. Since this type of fiber is not digested by the body it helps to slow gastric emptying and therefore can help to reduce your food intake because you will feel fuller for longer. Insoluble fibre is found in bran, wholemeal flour, brown rice, whole grain cereal, vegetables, edible peels and nuts and seeds. Soluble fiber helps to reduce the level of cholesterol by binding fats that cause high cholesterol and pushing them through the bowel. This helps to prevent the bad fats from being absorbed into the bloodstream. Soluble fiber absorbs water during digestion which acts like a natural stool softener. Soluble fibres include fruit, vegetables, lentils, peas, beans, oats, barley, oatmeal and potatoes.
In terms of weight loss increasing your dietary fiber can aide in reaching your goals if combined with a balanced healthy diet and exercise. Fiber helps in long term weight loss and your dietary fiber intake should be monitored to ensure you're meeting the daily recommended dose. Speak with your Doctor or Trainer to find out how much fiber you should be consuming per day. You want to make sure that you're not consuming too much fiber as well because it can cause a mineral deficiency.
High fiber foods are typically low in calories and are filling so they help to prevent overeating or snacking in between meals. Due to the slowing of digestion with added fibre you can also help to stabilize blood sugar levels which is beneficial to diabetics. Fibre will also help to prevent tiredness, hunger pangs and lack of energy.
Adding dietary fiber to your diet is not a fad and it's not a passing trend in healthy eating. It's a key part in maintaining a health and balanced diet which can aide in weight loss but also keep you healthy and your body functioning at an optimal level. There are many easy ways to add fiber to your diet but if you're still unsure on how to make this healthy change then ask your Doctor or training to go through your eating habits and help determine where you can make some changes.
For more articles go to http://lifesportfitness.lifestyleezine.com