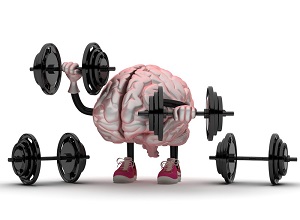 Exercise is not only important for a healthy body, but also for a healthy mind.The incidence of getting Alzheimer's Disease is about 4% at the age of 65 and increases to 50% at the age of 85. Some believe that everyone has Alzheimer's Disease and it's just a question of the degree. We have a blood-brain barrier that is intact when we are healthy. Its purpose is to contain things in our blood. When those vessels travel through the brain, they make sure that nothing leaks out into the brain that shouldn't. As we get older, we experience aging associated changes in our blood vessels, including the integrity of the blood-brain barrier. You begin to spring leaks in your brain, and they wreak havoc on the ability of the brain to function. It is found that those with Alzheimer's Disease have a material called amyloid that characteristically accumulates in their brains. Amyloid is found all over your body but not in your brain. When your brain-blood barrier breaks down, amyloid now begins to flood out in the brain. The accumulation of amyloid is one of the hallmark characteristics of the disease.
Exercise seems to be a helpful tool to reducing the risk of Alzheimer's. It is found by researchers that exercise alone can decrease the risk by 50% and 40% risk can be cut down by following proper diet. Blood flow is reduced and our cardiovascular system becomes weak when there is little or no exercise. When blood flow reduces, tissues can get damaged and the cells will begin to die. Both the heart and the brain is kept healthy by doing regular exercise as blood flows more strongly through exercise. Certain neuroprotective substances in the body are created and boosted by exercising regularly. When there is more physical activity, the brain automatically becomes active as both are interrelated.
It is also important to keep up mental stimulation. Individuals that continue to stimulate themselves mentally are less likely to develop Alzheimer's Disease. There are many ways to keep your brain sharp and working hard. Try learning something new (foreign language, musical instrument, tweek an existing habit like using the opposite hand to brush your teeth), play some strategy games (Sudoku, scrabble or online Brain Builder, Luminosity).
Try some of these ideas to keep your brain stimulated and sharp:
Read a book
Play an instrument
Play challenging games
Memorize famous passages
Learn poetry
Do the crossword puzzle
Do Sudoku puzzles
Solve word or math problems
With a healthy diet and including exercise for your body and your brain, you can help reduce your risk of getting Alzheimer's Disease in the future.
For more articles go to http://lifesportfitness.lifestyleezine.com