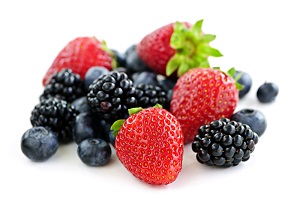 Berries are tiny, tasty, and tantalizingly colorful – and they're also powerful allies for your health, protecting everything from your head to your heart. Berries are loaded with fiber, which helps you feel full and helps you eat less. Many berries are full of antioxidants, protecting your body against inflammation and free radicals, molecules that can damage cells and organs.
Here are 8 benefits of eating berries:
Berries can also keep you mentally sharp. A study showed that women who had the highest berry intake postponed cognitive decline by about two and a half years.
People who eat at least two servings of berries a week have a 25% less chance of developing Parkinson's disease than their peers.
Berries can boost heart health. Reducing the risk of having a heart attack.
With their high fiber and liquid content, berries give us a sense of fullness – helping with weight control.
Berries can help fight high blood pressure.
Flavonoid-packed berries, such as blueberries and raspberries help fight cancer.
Berries' antioxidants might be allies in the fight against the effects of age on the brain that might be behind changes leading to the cognitive decline associated with Alzheimer's.
Cranberries are the usually the best berry to help with urinary tract health.
Probably the most common berry choices in your fridge are strawberries, blueberries and raspberries. They are all excellent choices in added benefit to your health.
Strawberries – contain more vitamin C in a one-cup serving than one orange and are also high in folic acid.
Blueberries – contain 20 types of anthocyanin – antioxidants that give berries their blue-violet and red colors. Other berries contain only three or four types.
Blackberries, Raspberries and Boysenberries – each contains 8 grams of fiber in one cup – one third the daily recommended amount (25 grams).
Cranberries – not only combat urinary tract infections by preventing Escherichia coli bacteria from sticking to cells in the urinary tract, but they also are a natural probiotic, supporting healthy bacteria that grow in the gastrointestinal tract and aiding in digestion.
Berries are low in calories, high in fiber, and they contain vitamins and minerals your body needs to function normally. Add berries into your meals and snacks to get 5-6 servings a day – not only are they delicious, they are full of healthy benefits.
For more articles go to http://lifesportfitness.lifestyleezine.com