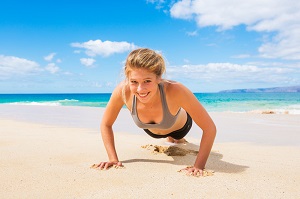 Often weight conditioning gets placed on hold when people go on vacation. This should not be the case because it is entirely feasible to maintain your weight training program no matter where you are; remain assured that no exotic destination is too far away for your weight conditioning. Doing something is always better than doing nothing when it comes to working out. Almost everyone has an extra fifteen or twenty minutes a day to squeeze in some activity. Even just one session a week will help dramatically in keeping your current muscles healthy.
Try these tips when traveling:
Bring Your Own Equipment — a simple resistance band and a jump rope can provide the perfect, light weight equipment to pack for any workout. One minute intervals alternating jumping rope with resistance band exercises can make an incredible, full body workout.
Drink Up — Stay hydrated with water. Make sure to drink 8-12 glasses of water each day. Water helps maintain your metabolism and flushes out metabolic impurities.
Scope Out Your Surroundings — A great way to stay fit while exploring a new place is to research outdoor or fitness related activities in the area. Hiking trails, jogging paths and even guided walking tours make for a great way to get your workout while enjoying your vacation.
Need Motivation? — Bring your favourite workout DVD with you so you have that extra motivation while on the road. Many people need to have someone instructing them when it comes to fitness. DVDs are easy to slip into your bag and a great way to carry your workout wherever you go.
Get Enough Sleep — Many times when people are on vacation or traveling for work, sleep is compromised. Make sure to get enough shut eye. Sleep is important for stress reduction, muscle recovery and cell repair. Get enough sleep so you'll be able to get up and kick your workout into high gear the following day.
Try Something New — A great time to try a new class is when you're on the go. Check out your hotel or local gym to view schedules and attend a class that might put you out of your comfort zone or a session that you've been dying to try.
Use the Buddy System — No matter your reason for traveling, try using the buddy system for working out. Not only can your buddy help motivate you at home, but you can hold each other accountable when traveling. Having someone to report to might just be the inspiration you need to keep going.
Set a Goal — Short term goals are a great way to keep your fitness routine in check. Determine what a reasonable short term goal would be while traveling. Goals such as drinking enough water each day, deciding to try three new activities while on vacation or not eating dessert while traveling are all great ways to help keep you on track.
Don't Go Overboard With the Treats — While it is always easier to over indulge while on a trip, it's harder to take it off the body once the damage is done. Stick to appropriate portion sizes and don't decide to over eat just because "you're on vacation".
Stock Up — Have favourite healthy snacks. If they're portable, then make sure to grab a few and throw them into your suitcase. One of the hardest things to do while traveling is find great healthy snacks. Ease the worry and take them with you.
Here is an example of an easy workout to do while on vacation. Just bring your kettlebell with you!
Kettlebell Workout
½ Get Ups for 30 seconds
Squats for 30 seconds
Swings for 30 seconds
Repeat entire circuit four times.
Part of the joy of a vacation is the break from your regular routine — work less, sleep a little more. A little motivation and planning will go a long way to guarantee that your vacation will be both relaxing and productive. Go ahead and eat a little more, perhaps even scale-down your exercise schedule, but keep the habit. You will return to the real world rested, stronger, and on track.
For more articles go to http://lifesportfitness.lifestyleezine.com