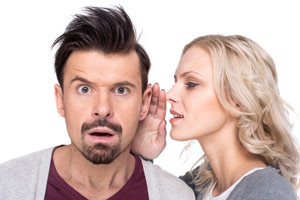 Dividing up the household chores is one of the most difficult aspects of living with another person. Most people think only newlyweds have this dilemma, but it's something even older couples, life-long friends and college roommates struggle with when they live together.
Most people don't enter into a living arrangement thinking they will simply get the other person to do all the work around the house so they can just relax and enjoy the weekend. Quite often, when two people decide to live together, they get right to work making joint decisions on what color to paint the walls, what type of furniture they want to have or where to place the TV.
But when it comes to maintaining the home and the yard, paying the bills, doing the laundry, grocery shopping, cooking and cleaning many individuals simply start doing whatever it is they're most comfortable with, without much discussion at all. And that's exactly where the problem lies.
Silence isn't the answer
For example, if you love to cook, you might be excited to prepare the first few meals in your new home. After only a short time, you find you're doing all the cooking, and it's just become part of the routine. The other person may not offer to cook a meal because they don't want to offend you or because they know how much you love to cook. But in the meantime, you're getting annoyed because they haven't even asked.
All of this could have been avoided with a simple conversation about who'd be doing the cooking once you moved in. Just stating that you're excited to try out the new kitchen may be enough to get the conversation started. But be sure to speak up and suggest a plan to share the responsibility if it doesn't come up automatically. You can apply this same tactic to just about any ongoing chore that's likely to become a source of frustration if only one person is responsible.
Communication is easier once the lines are open
While it's always a good idea to have these types of discussions ahead of time, it's important to keep in mind that once you're all settled in you may need to make some adjustments to your preplanned routine. Maybe one person's commute is longer than originally thought, or maybe you decided to get a dog. However, having already had discussions about sharing responsibilities, it will be much easier to discuss what may need to change.
Some people may be resistant to the idea of discussing responsibilities in the home, because they think it seems too ridged. But the truth is, having clear-cut roles makes it even easier to be flexible, especially in the short term. For example, you see that the other person is struggling with something (e.g., a big project that's keeping them at the office late or a cold that's keeping them on the couch). If it's their turn to make dinner or take out the trash, be sure to offer to step in. Just make sure you're genuine in asking if you can help out, as you don't want them to feel like they're not keeping up their end. Also, by asking if they need help, you're setting a precedent of pitching in when needed, and the favor will likely be returned when you're in need.
For more articles go to http://lifesportfitness.lifestyleezine.com