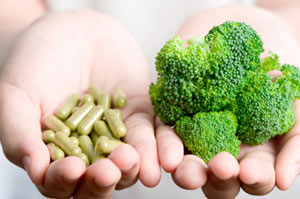 Increased awareness of the importance of maintaining a healthy lifestyle is leading many people to increase their activity levels and reevaluate the foods they eat on a daily basis.
Many people are already enjoying the benefits of adopting a healthy lifestyle, as weight loss and better nutrition often lead to the disappearance of chronic illnesses and the need to take certain prescription medicines.
This is exciting news for anyone taking prescription medication on an ongoing basis. Particularly those that choose to adopt a healthy lifestyle, as they often feel conflicted when following up their home-cooked meals made from organic ingredients with a cocktail of prescription medication manufactured in a laboratory.
The success in reducing chronic conditions through good nutrition highlights the importance of carefully choosing what we put into our bodies and has opened our minds to the potential healing powers of food.
Eat to feel better
The term "comfort food" typically refers to a specific food chosen to lessen the impact of a bad day. While more recently the concept is associated with eating something that's on the unhealthy side, the idea that foods can actually make us feel better holds true.
Alternative quick-fix remedies
Minor illnesses and ailments happen to everyone, but unfortunately we've grown accustomed to reaching for over-the-counter medications at the first signs of trouble.
Whether it's an upset stomach, an annoying cough, or a minor ache or pain, you just might find an alternative quick-fix remedy in your kitchen.
Stomach trouble
Sometimes our stomachs can be extra sensitive to something we ate or to increases in stress. The next time if happens to you, try treating the minor pains or rumblings with tea made from peppermint oil, ginger or basil.
Calming your cough
Whether it's caused by a cold or allergies, coughing can be very annoying. If a dry, irritating cough is keeping you up at night, try taking a teaspoon of honey in place of traditional cough medicine.
Pain stoppers
Turmeric is a popular spice used in curry dishes. But when consumed in soups or teas or applied directly to the skin, it also has anti-inflammatory and pain relieving properties.
As all of our nutritional needs must be met by the foods we eat, it isn't all that surprising that many foods pack powerful healing qualities. To make the most of these qualities as you experiment with food-based remedies for treating minor ailments, be sure to choose only the highest quality organic ingredients when possible.